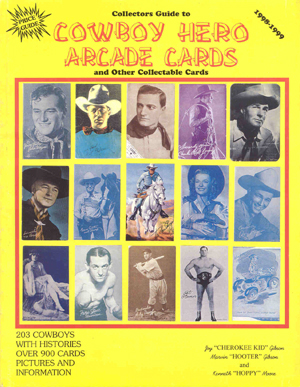 Cowboy Hero Arcade Cards
Here is a real labor of love by Joy and Marvin Gibson and Kenneth Moore. They have assembled a collection of all of the different cowboy arcade cards that were sold in the machines at the penny arcades of years gone by. Biographies of the actors that played the roles are also included. There are also cards shown of cowgirls, other actors and actresses, sports heroes, boxers and even some pin-ups. But the majority of the ones shown are cowboys, as the title suggests. Also includes some photos of the machines that dispensed the cards and has a value guide included as well.

Soft cover, 147 pages
8 1/2" by 11" format
No ISBN No.

This book is out of print (very limited availability).

This copy is autographed by all three authors, Joy "Cherekee Kid" Gibson, Marvin "Hooter" Gibson and Kenneth "Hoppy" Moore.

BK248 $65.00