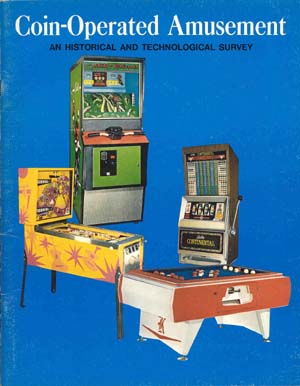 Coin-Operated Amusement, An Historical and Technological Survey
Herb Jones took on the task of writing this survey for Bally Manufacturing back in the 1980s. It covers all the products that they manufactured at the time, slot machines, pinball and video arcade games. Although somewhat technical in nature it has some history and nice photography. Perhaps was done to entice potential investors? A hard to find book that was also produced with only the pinball section under the name Coin-Operated Pinball Machines (BK227).

Soft cover, 41 pages
8 1/2" by 11" format
No ISBN No.

This book is out of print (very limited availability).

BK203 $65.00
We're sorry, this item is sold out.