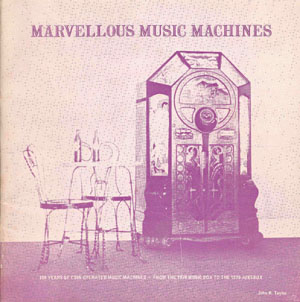 Marvellous Music Machines
This little gem of a book was produced as a catalogue for a travelling exhibition of coin-operated music machines in Canada during the summer and fall of 1977. Some text but mostly photographs of the many and greatly varied group of machines that made up the exhibit.

Soft cover, 32 pages
8 1/2" by 8 1/2" format
No ISBN No.

This book is out of print (very limited availability).

BK106 $24.95