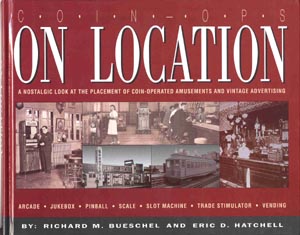 Coin-ops On Location
If you have ever looked for photographs of locations that include coin operated machines you know how difficult it can be to find them, at any price. Well Dick Bueschel and Eric Hatchell did all the work and have assembled a very impressive book of coin-op machines on location. This is a large part of the impressive collection of postcards and photographs that Dick had put together over the years.

Hard cover, 144 pages
10" by 8" format
ISBN No. 0-9638176-0-4

This book is out of print (very limited availability).

BK095 $125.00
We're sorry, this item is sold out.
This book is also available autographed by both authors, Dick Bueschel and Eric Hatchell.

BK095A $145.00