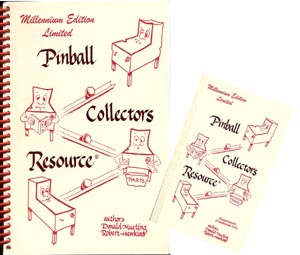 Pinball Collectors Resource,
Millennium Edition
The long awaited updated copy of the Pinball Collectors Resource is now out. Greatly expanded from the previous editions, this is a wealth of information for the pingame collector. Done in two separate volumes, one for the bookshelf and one to take with you when "hunting" for pinball machines.

Soft cover, 288, 222 pages
5 1/2" by 8 1/2", 3 1/4" by 5 1/4" format
ISBN No. 0-9623962-1-4

This book set is out of print (limited availability).

BK092 $44.95